Google Analytics Fundamentals
1-day course
This course will provide you with a better understanding of Google Analytics and how the information can be used. We will cover from the basic set up to the basic reports that you can extract from Google Analytics.
On completion of this course, students should be able to demonstrate an understanding of the following:
Have a better understanding of what Analytics is all about and what the terminology means.
Learn how the basic account is set up and the most important settings.
Understand the importance of users, sessions and visitors and interpreting the information in reports.
Learn about metrics and dimensions and how they are structured and used in creation of reports.
Appreciate the extent of the main menus down the left-hand side and what the essential reports are covered under each one.
Overview of Dashboards, Custom Reports and Saved Reports
Appreciation of what an Analytics Goal is and how to configure and track these.
Learn how to connect to other Google tools and dashboards for integration of reporting.
PRE-REQUISITES
There are no hard and fast pre-requisites for this course, however a basic understanding of computers and in general how to navigate around a browser and general browser navigation is recommended.
TARGET AUDIENCE
Google Analytics is a complex reporting solution—this course is designed as an overview for beginners wanting to understand the basics.
COURSE OVERVIEW
Module 1 – Analytics Overview
This module covers an overview of Google Analytics. We briefly cover the main reporting areas such as Acquisition, Audience, Behaviour and Conversions.
Module 2 – Create a Google & Google Analytics Account
This module covers an overview of Google Accounts and then the creation of a Google Analytics account. We go in to how to set up a basic account.
Module 3 – Connecting to other Google Tools
We cover briefly how to connect to other Google interfaces such as Google Search Console and Adwords.
Module 4 – Users, Sessions and Pageviews
We run through the basic terminology regarding Users, Sessions and Visitors and what Pageviews are.
Module 5 – Overview of Metrics and Dimensions
This module covers a bit more in depth of how Analytics reports the data. Data is organized by metrics and dimensions and understanding these is important to be able to extra the right reporting.
Module 6 – The Dashboard, Main Menus, Admin Menu and Basic Reports
This module covers an overview of the Analytics Main Dashboard, the main menus on the left-hand side of the Analytics interface. We run through each area and cover the essential reports that are useful for every day analysis.
We also run through the main Admin menu and the background behind Accounts, Properties and Views.
Module 7 – Report Dashboards, Custom Reports and Saved Reports
This area covers the main Dashboard and Custom Reports and how to save reports and export and import from the Google Solutions Gallery.
We talk briefly about automation of reports and sharing to other people and interfaces.
Module 8 – Goals, Filters and Conversions
This area covers what Goals are in Analytics and how to set the basic ones up. We can import a small set of goals from Google Solutions Gallery and show how to configure these. We also talk about Events and how to track these as goals.
Module 9 – Google Analytics Glossary
This is an added section to cover some of the terminology we use frequently when talking about Google Analytics. More a reference section than anything else.
COURSE DETAILS
Time: 9am to 5pm
Cost: $250 plus GST
Venue: Quest On Bourke Street—155 Bourke St, Melbourne VIC 3000
What to bring:
You can bring your own Laptop or iPad as we will be connecting to the internet and doing some online research during the class. We can provide a small Lenovo Laptop for you to work on in class if you don't have one available.
We will provide tea and coffee facilities and there are toilets on site.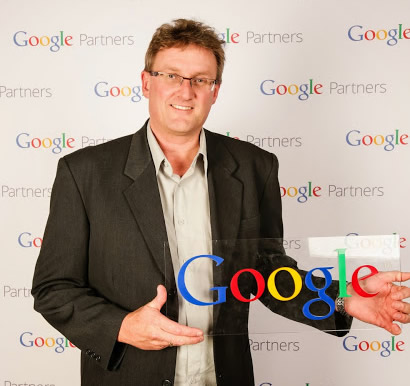 Course tutor: David Partis