Web Training Courses was founded by David Partis from Website Optimisers.
David has been teaching SEO and WordPress courses for nearly a decade.
Our courses range from:
Contact us if your organisation is interested in any of our courses. We can also write custom material on request.
UPCOMING COURSES

Currently None Available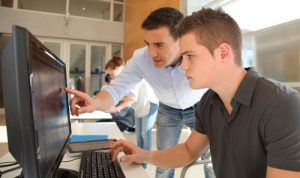 Classroom Style Learning
Our courses are hands-on and taught in a relaxed classroom environment. Bring your own laptop or we can provide one for you.
We will provide tea, coffee and a soft copy of the manual for you.
Perfect For Business Owners
Business owners should understand SEO fundamentals to ensure they are dealing with experts and know what to expect.
Too often agencies use confusing jargon with customers, which we explain in class.
Time for a shout out to James Gatward & David Partis of Web Training Courses. I did the "How to be found on the Internet" course with them yesterday (26/04/16). All I can say is WOW. Brilliant. Best days training I have done in a very long time. Time to book the next one. Thank you gentlemen
Hi David,
I just wanted to thank you for the WordPress boot camp course that I attended this weekend.
I was very apprehensive at the beginning but your style of teaching and the course material provided are both excellent and logical. The class covered far more than I expected and I learnt so much .I would highly recommend you to anyone considering doing a course on anything computer related.

Thanks very much
I recently completed David's WordPress Bootcamp course run over a weekend. David is very passionate and knowledgeable about websites, web design and WordPress and willingly shares this with his class participants in an organised and structured manner. He was very respectful of participants with existing skills and experience and patient with those who had questions. The class notes were easy to follow and a great take-home resource.
I have just completed the WordPress bootcamp run by David Partis. I entered with no confidence for website building and came away empowered to start building my website. David was patient, engaging and happy to share his valuable experience. The course was run at a great pace, using an easy to follow comprehensive manual . David was mindful of the ability levels of those attending and ensured we all made progress. I highly recommend this course.
I attended David's 2 day WordPress Bootcamp. I found it to be really informative and easy to follow. We weren't only taught the easy way but also the long way to do things so we could all grasp a better understanding of the fundamentals of how WordPress functions. David was a patient teacher and I highly recommend this course to anyone who might be thinking of upskilling and using WordPress to build their websites.